The first thing that comes to mind when we think of Gujarati food is usually dhokla, thepla, khakhra, or the famous Gujarati lunch menu aka Gujarati thali! But did you know that that is just the beginning? Oh yes! Gujarati food will make you drool like no other because of its eclectic mix of spices, delicious cuisine, and irresistible food. So, if you plan to visit the state soon, here's a look at the top 10 famous foods in Gujarat you must try as quickly as possible.
What are the top 10 famous foods in Gujarat?
Dal Vada
We have all heard of medu vada & Dahi vada, but have you ever heard of dal vadas? A popular snack item from the alleys of Ahmedabad, dal vada is a crispy and delicious food item that will melt your tastebuds in no time. Made with some of the simplest home ingredients, they are usually served as a snack and taste best with a hot cup of ginger tea. So if you're in the mood for some delicious Gujarati famous snacks, try this.
Dry Fruit Kachori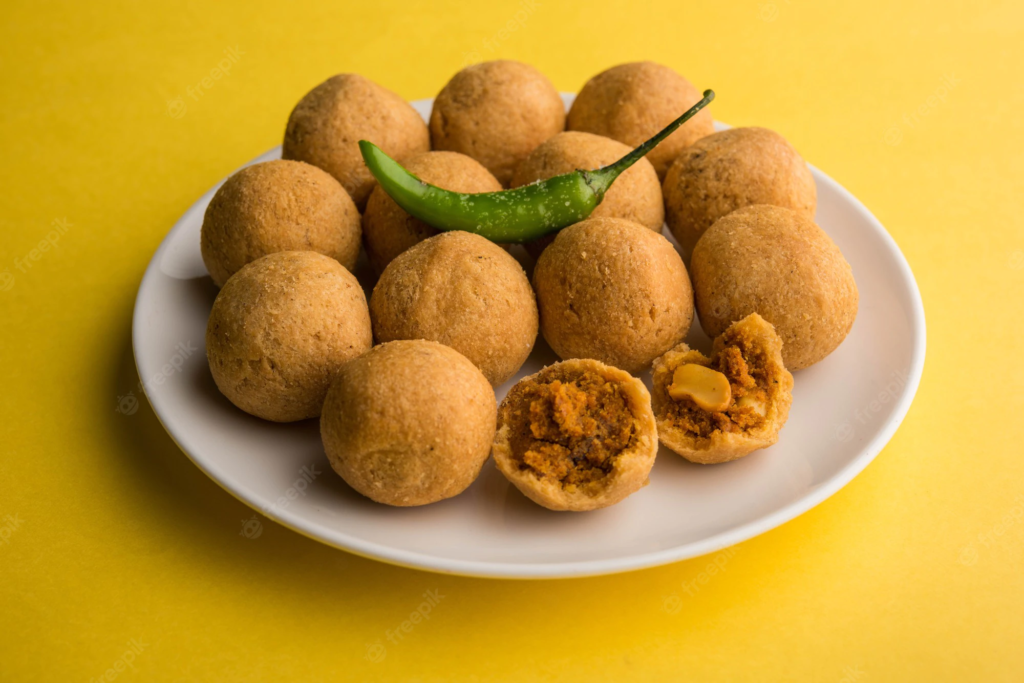 Travelling to Jamnagar anytime soon? Then make sure to try dry fruit kachori. A delicious food item served as a snack. Dry fruit kachoris are made with coconut shavings and dry fruits. While some prefer to begin their mornings with jalebi fafda, some also like to have this with chai. The snack has a perfect combination of sweet and savoury and is a loved food item amongst Jamanagaris.
Locho
One of the most delicious Gujarati food recipes, locho is a popular gram flour dish from Surat. Seasoned with coriander, sev, butter, cheese, and oil at times, locho is like a roll and a cherished dish amongst Gujaratis. Some also prefer to cook locho in various flavours like schezwan, garlic, mint, etc.
Ganthiya
Made with chickpea flour, ganthiya is served with green chillis and chutney. While there is a sweet version, people usually prefer to have this as an evening snack. With its perfect yellow texture and crunchiness, you will find this famous dish anywhere on the streets of Gujarat.
Dabeli
Originating from the Kutch region of Gujarat, Dabeli is a desi burger most people enjoy as a breakfast or snack item. Made with species, boiled potatoes, peanuts, pomegranate and sev, the mixture is placed in a bun, toasted with some butter, and served as street food.
Fafda Jalebi
We've all seen fafda jalebi on Tarak Mehta Ka Ulta Chashma, but did you know it is a part of reality too? Oh yes. Fafda jalebi is a popular breakfast item loved by Gujarati across the state. People love the dish's perfect blend of sweet and savoury. Not to forget the crunchy fafda that enhances the experience in no time. If you want more Gujarati recipes and Gujarati cuisine notes, you can look up our other blogs for the same.
Doodhpak
More than just the traditional desserts, Doodhpak is made with the goodness of cardamom, rice, sugar, and milk and seasoned with raisins, almonds, pistachios, saffron, and other dried fruits. While some prefer having this as dessert, others like to serve it with fluffy and hot puris.
Chorafali
Adding to the exciting list of crunchy snacks, we also have a chorafali on the list. Made of urad dal, gram flour, and a delicious mix of powders, chorafali is fried in hot oil and shaped in the form of strips. Fluffy, crisp, and super tasty are popularly served during festivals like Diwali. Chorafalu can also be stored within containers and kept for a week approx. So, if you want to try all the famous foods in Gujarat, add this to your list.
Gujarati Kadhi
Did you think kadhi is popular only in North India? Oh no. The Gujaratis also have their version of it, and it tastes oh-so-delectable. A combination of sour and sweet is a comfort food usually consumed with a delicious bowl of rice. Popularly prepared during summer, this happens to be one of the most popular Gujarati dishes for dinner and lunch.
Kathol
Now that we have covered most of the famous food of Gujarat city-wise let's take a look at this Jain recipe called Kathol. Kathol means beans or legumes in Gujarati. It is made using a slightly tangy gravy and is usually creamy in texture and spicy to taste. You can make large batches of it and keep it in the fridge for days. Kathol is not just healthy but also packed in protein and makes a perfect curry with rice.
Apart from trying out these delicious recipes, you can also visit some of the best restaurants that serve all the famous foods in Gujarat you will love.
Swati Snacks
Want traditional and authentic food in Gujarat? Then visit Swati snacks. Known for serving some of the best and most famous foods in Gujarat, you can grab a taste of daal bati, dhokla, handvo, etc. Of course, those with a sweet tooth can also try the delectable sugarcane juice.
The Eatery
Best known for quick bites, tasty meals, and good coffee, The Eatery offers a mix of Gujarati and continental eateries. While the restaurant also caters to non-vegetarians, you must visit this place to taste the famous foods in Gujarat.
Gordhan Thali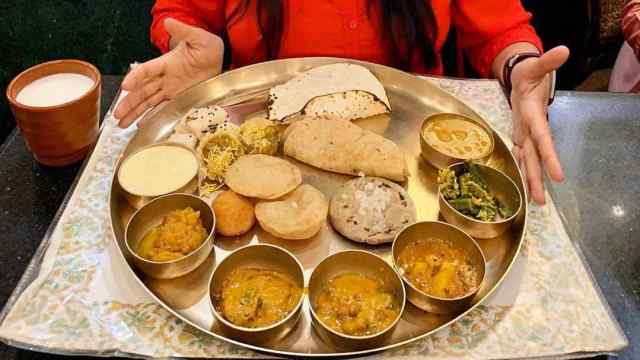 Have you got thali on your mind? Try Gordhan thali! They serve the best traditional foods that won't just melt your tastebuds but also find a way to touch your heart. Not just that, the place also has exceptional service and ambience you will like.
Final thoughts
So that was a look at some of the top 10 famous foods in Gujarat. If you would like to know more recipes and dishes regarding the renowned food of Gujarat in Hindi, make sure to check out our blogs. Also, if you have tried any of these delicious Gujarati foods or have a unique dish you have tried recently from the state, tell us all about it in the comment section below.