If you are wondering what the best places to visit in Kumbhalgarh are, you have come to the right place. A small, stunning yet quaint town located around 85 km away from Jaipur, Kumbhalgarh is surrounded by the beauty of the Aravalli hills. This place is also an attractive tourist spot as it is filled with dense wildlife sanctuaries, temples, etc. If you wish to visit this exotic place anytime soon and are wondering what the best places to visit in Kumbhalgarh in one day are, then keep reading this post.
Kumbhalgarh Fort
Located at 1900 meters above sea level, the historical Kumbhalgarh Fort is one of the most beautiful historical places you will ever visit. Massive walls that cross 30 km also enclose this historical place. Kumbhalgarh Fort was recently listed as one of the most important UNESCO World Heritage Sites. It has various palaces and temples located within the fort as well as outside. Not just that, visiting the fort also gives you an exciting view of forests, hills, etc., that will definitely leave you starstruck.
Mammadev Temple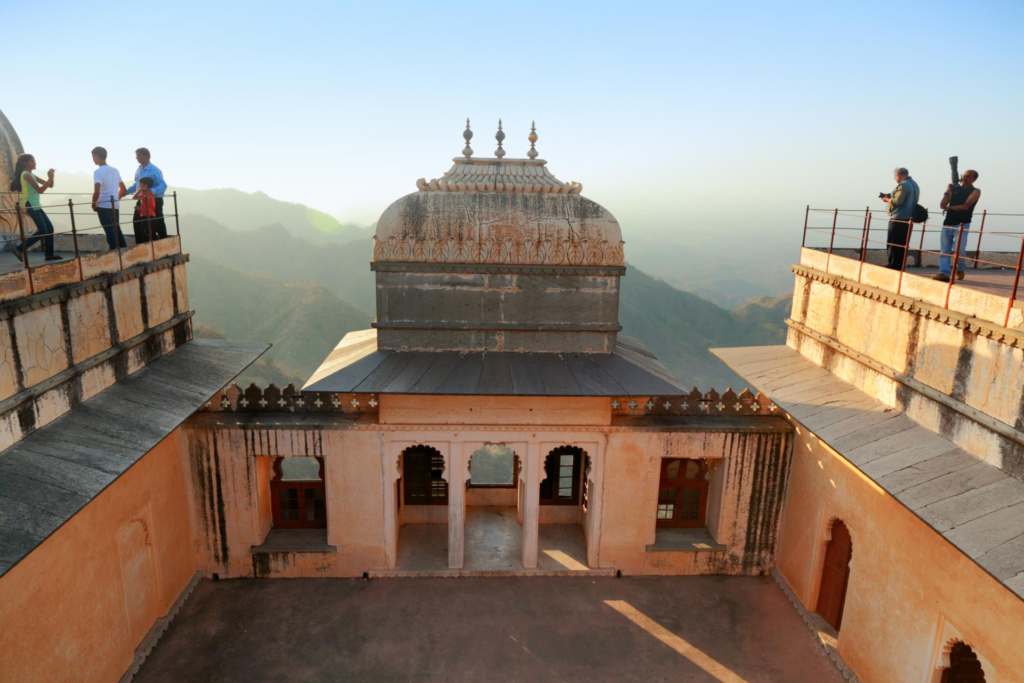 Just below Kumbhalgarh Fort is Mammadev Temple. This place is best known for its exciting interiors and architecture. The temple was built in the year 1460 by Rana Kumbha. It also offers several exciting and intricate sculptures, which makes it one of the best places to visit in Kumbhalgarh. There are two important cenotaphs called chhatris that are located in the fort. It also has a reservoir which is known as a kund.
Kumbhalgarh Wildlife Sanctuary
If you are visiting Kumbhalgarh, you also have to visit the exotic Kumbhalgarh Wildlife Sanctuary here. Located in the Rajsamand district, this place is known for being home to a whole variety of exotic and endangered species such as nilgai, sambhar, chinkara, Indian hares, etc. It also has a range of exciting birds that are cited here. The grey jungle fowl is also a common attraction in Kumbhalgarh. The best Kumbhalgarh wildlife sanctuary timings are somewhere between 7:00 AM – 6:00 PM.
Ganga Govardhan Museum
Another exciting place to visit in Kumbhalgarh is the Ganga Govardhan museum. This place is known for its exciting historic artifacts. It also shows a huge collection of crockery, coins, and weapons that display the amazing history of our nation. Ganga Govardhan Musem is also visited by many people because of its riveting and exciting collection that will definitely leave you starstruck.
Vedi Temple
What's a trip to Kumbhalgarh unless you have visited Vedi Temple? Dedicated to the Hindu Goddess Vedi, this picturesque and beautiful temple is located quite close to the Hanuman Gate and was constructed by Rana Kumbh. The temple was also renovated during later years by Maharana Fateh Singh. At the present moment, this beautiful temple is considered to be one of the best relics that serves as a sacrificial site in India.
Palace Of Clouds
Your holiday to Kumbhalgarh could be a lot more exciting if you visit the Palace of Clouds. Perfectly known for its excellent architecture, this palace is definitely a marvel. It is full of exciting paintings, wall murals, etc., that make this place stunning and exciting. Not just that, Kumbhalgarh also offers extremely stunning views and a palace view that you should definitely consider capturing on your phone.
Adventure activities in Kumbhalgarh
Apart from the exciting touristy spots, Kumbhalgarh also offers you exciting adventure activities you can take part in. From nighttime trekking to forest camps and even exciting nighttime safaris, you also get a variety of options to choose from. The adventure camps will give you an exciting tour of Udaipur, Ranakpur, Kumbhalgarh, Goramgath, etc.
Where should you stay in Kumbhalgarh?
While there is no dearth of Kumbhalgarh hotels, you can consider staying in Fateh Safari Lodge, Raajsa Resort Kumbhalgarh, Mahua Bagh Resort, Kumbhalgarh Safari Camp, Wid Retreat Kumbhalgarh, etc. They are some of the best, most exotic, and top-rated places you can consider staying in during your stay here.
Places between Udaipur and Kumbhalgarh
Also, if you are touring all across Rajasthan, then make sure to visit a few exciting places between Udaipur and Kumbhalgarh.  Nathdwara is a holy town that a lot of people visit here. Not just that, the place also has some exciting temples like Rajsamand, Ranakpur, Delwara, and Lake Badi.
Shopping in Kumbhalgarh
However, your trip to Kumbhalgarh is pretty much incomplete unless you have shopped here. Hathi Pol Bazaar, for one, is a great place to visit. You will get to see some exciting handmade paintings there made with handcrafted materials, etc. Bada Bazaar is a great place as they have handcrafted clothes, fashionable jewelry, and some exciting souvenirs for you. However, if you want to go for intricate and well-embroidered work and some cute-looking jutis, then make sure to visit Sadar bazaar.
What is the best time to visit Kumbhalgarh?
If you are planning to visit Kumbhalgarh, then do visit this palace between the months of October and March. This place is peaceful and pleasant during this time of the year. Moreover, it is well known as the best tourist spot. Apart from the places to visit in Kumbhalgarh, you can also take a drive and go to Udaipur, another beautiful place for exciting holidays during the winter and spring season.
How many days should you stay in Kumbhalgarh?
Since Kumbhalgarh happens to be a small city, it should not take you more than a day to complete your holiday here.
As mentioned previously, Kumbhalgarh is known for being an architectural wonder across India. It is also known for its excellent and spectacular forts. It also has thousands of tourists across the world and is also famous for its adventure camps.
Although the places to visit in Kumbhalgarh are great, you can consider visiting Udaipur too. They also have a plethora of exciting places. This includes Lake Pichola, Bagore Ki Haveli Museum, Fateh Sagar Lake, City Palace Museum, etc.