Manali is one of the gem mountain towns in Himachal Pradesh State, which is located in India. Manali, a beautiful city of Himachal Pradesh, is becoming a centre of attraction for tourists as it is well known for various adventures and scenic beauty. It is also one of the favourite honeymoon spots for newlywed couples. So let's learn more about Manali, a beautiful Himachal Pradesh city.
Story of The Golden Old Days of Manali
Manali's name comes from the original name of the city, "Manu-Alaya," which exactly means "The residence or the abode of the Manu."
It is said in history that, after a great flood submerged the whole world in one, Manu parked his ark in Manali to restart human life. It is believed that the first inhabitants of Manali were Rakshas (a wandering hunter community) and shepherds from Kangra Valley.
It is also believed that one of the great forms of Lord Ram, famously known as Lord Raghunathji, was the ruler of Manali. It is very interesting to know how Lord Raghunathji became the ruler of it.
Raja Jagat Singh (the ruler of the 17th century) was cursed by a farmer and caught a skin disease called leprosy. On suggestion, the pitiful king brought an idol of Lord Raghunathji from Ayodhya and started worshipping it. Within a time, his disease got cured, and he placed the idol on the throne and started ruling the state on behalf of Lord Raghunathji. The later kings of that time who ruled over Manali ran the kingdom in a similar manner.
According to modern history, Manali was a part of Mandi state, which was later merged with India in 1948.
Environmental experiences throughout the year
Manali is located in a mountainous region. Because this small town is located in the Himalayan Range, it can be cold all year. The winters are extremely cold, whereas the summers feel cool and pleasant. Due to heavy rain in the rainy season, roads are damaged and cause land slides.
The weather here is enjoyable throughout the year. Some tourists visit this place in winter, especially to experience the heavy snowfall. During the winter season, the temperature is recorded below the freezing point. People should be prepared with heavy woollen clothes for winter. Most of the hotels have special facilities like room heaters to cope with the extreme cold during the winter season.
Tourists come to visit this place throughout the year because of its calm and soothing weather. During the summer season, tourists at least should have light woollen clothes to protect themselves from the normal cold.
Geographical Position of Manali
Manali, a beautiful city of Himachal Pradesh, is situated near the northern end of the Kullu Valley at a height of 6,398 feet. Geographically, Manali is located between 32°10'N and 77°06'E.
Social Units Reside in Manali
Manali, a beautiful city in Himachal Pradesh, is home to a diverse range of communities that reflect the region's socio-cultural dynamics and vibrancy.
One of the oldest and local prevailing community is Kinnaur. The male gender of this community is mostly involved in cattle and sheep rearing, whereas females are engaged with household chores and raising their kids with the proper values and customs of their culture.
Totemic religion is the most widely practised in Manali. Through the influence of city culture, they have also started worshipping idols. Local people of this region speak the Manali language, known as Mandiali, a variation of the Pahari language.
As Manali is also a tourist destination and local people have to come in contact with tourists often, they are also able to converse in Hindi, English, Punjabi, and many other Pahari languages. Another local tribe of Manali is the Gujjars, which is widely considered a hunter's tribe. They move from one place to another in search of food for themselves as well as for their cattle.
Various Cuisines to Try
Manali, a beautiful city of Himachal Pradesh has great variety collection and taste of food. One can relish the street food here during their visit. As Manali is located in a cold region and has a great footfall of tourists, it has great taste in non-vegetarian dishes as well. Some of the names of the best dishes are given here that you must try.
Street Dishes
Bombay Bhelpuri is a spicy and tangy dish that can be found on the streets of Manali.
Samosas, a very famous Indian snack, are also available in Manali sweet shops.
Special Manali Dishes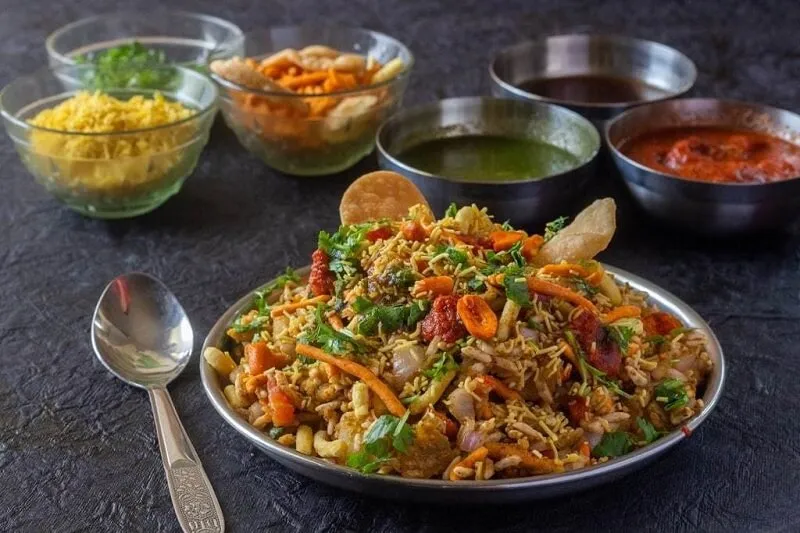 Khatta, another very famous dish of Manali, is prepared from pumpkin, amchur powder, and boondi. It is available at local restaurants and cafes. Sidhu is a must-have Manali dish. It is sold on Manali's streets by Pattu-draped Pahadari women.
Babrudish is belonging from kachori family so it quite resemble with it. You can purchase it from a sweet shop in Manali.
Manali's Special Main Course Dishes
Bhey is a main-course dish made from lotus stems. This dish is a nutritious mixture of herbs, spices, and gram flour.
Tudkiya Bhat is considered a favourite dish of the Manali people. It is prepared with vegetables, rice, and lentils and complemented with mashed dal.
Chana Madra is cooked with tamarind, onion, garlic, and other species. The core ingredient of this dish is white chickpeas. This tangy dish is available in a local dhaba or restaurant in Manali.
Sweet Dishes
Mittha is the famous sweet dish of Manali, cooked with sweetened saffron rice and raisins. It is decorated with dried fruits and is readily available in this location.
Patande is a sweet dish made from milk, sugar, and wheat flour. It is commonly eaten as breakfast in Manali.
Aktori is a cake prepared with a special ingredient called buckwheat flour. Street food lovers should definitely try this core dish of Manali.
Non-Vegetarian Dishes
Chha Gosht is another famous non-vegetarian dish from Manali. It is prepared with marinated mutton in yogurt, gram flour, and other Indian species. It is served with rice and easily available on the streets of Manali.
Trout is fish dish which is low in calorie available in Manali. It is one of the must-have dishes in Manali for non-vegetarians.
Tibetan Special Dish
Catonese Noodles are a Tibetan dish that is easily available in Tibetan restaurants and cafes in Manali.
Jain Food Availability
Vegetarian food is easily available on the streets of Manali, a beautiful city in Himachal Pradesh, so vegetarian food lovers have no difficulty finding it. The good news for Jain people is that the hill town consists of pure vegetarian restaurants that also provide pureJain food.
The dhaba named Shri Salasar Dhaba ( Owner Name – Nitish Bhai – 9783534757 ) is hardly 13 kilometres away from Manali and provides the best Jain and pure vegetarian food. The owner and staff are so humble with their clients. One must visit this place to have a special taste of Pahari tea made by the owner himself. The ambience of this place is extremely peaceful and loving.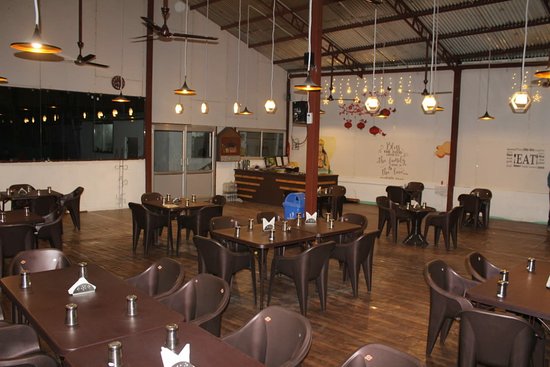 The intercity 3-star Hotel Natraj has a restaurant known as Udupi Restaurant that also provides the best of pure vegetarian Jain food. There is a small Jain temple here. The hotel has the best staying facilities, along with the best vegetarian food. The staff here is humble and helpful. The quality and taste of food are so good that even non-vegetarian food lovers visit this place to have vegetarian food there.
One must experience the city's cuisine as well as the breathtaking views.
Crafts
Manali town is rich in craft industries. The handicraft industry of Manali is popular. Other than this other many industries are established here on big scale. These have helped local people to settle here. Let's learn more about the industries of Manali.
Hand Looms and Handicrafts
The handloom and handicrafts industries create the backbone of the economic structure of Manali. Craftsmen in this region have inherited these skills from their forefathers. Because of the cold weather in this region throughout the year, most of the local people are involved in the art of spinning woollen clothes. They are skilled in weaving colourful traditional attire such as long overcoats, shawls, mufflers, woollen caps, and pattu.
Hand-Knitted Woollen
Most of the people of Manali are engaged in the agriculture profession. But during the winter season, due to heavy snow, they are not able to continue their work. The female workers pursue the art of weaving wool and prepare socks, sweaters, pull-overs, gloves, caps, etc. This art provides them with the pleasure of empowerment as well as economic stability. The wool is home-processed, tough, durable, and inexpensive.
Metal Craft
Manali people are also famous for their metal craft. The residents of this place use different metal products for their different necessities. Apart from household goods, special products are also manufactured by them.
Among Them are the Following:
Chariots and Palanquins: Royal chariots are prepared beautifully with special techniques and age-old practises by craftsmen. The craftsmen of Manali are talented enough to create traditional Palanquins. These palanquins are largely used for deities.
Jewelry: The women of Manali are highly fond of traditional metal jewellery. They wear different jewelries such as Bali, Guthi, Balu, Bichhwa, Jhanjar, Boomani, Chandrahar, Laung, Fuli, Chhalai, Jaumala, Sikkamala, Ghungroomala, etc. made from silver and gold. Chokers, bracelets, and anklets are widely used here. Early men were used to wearing different ornaments, but this tradition vanished with time.
Other Things: Other than these, Manali crafts are famous for manufacturing silver or gold umbrellas, musical instruments such as the drum and brass-made Nagara, Narsingha made from copper, Bukharise, an oven with metal finishing, vessels, idol statues made from metal, designer bells, handles, incense burners, etc.
Market: You can explore this variety of metal crafts from the domestic markets of Manali. A few names of Manali market places are given here.
Tibetan Market
Lam Underground Market
Snow Lion Underground Market
Dragon Shopping Complex
Shangri-La Shopping Complex
Hong Kong Market
The MallRoad market
Masks
Manali masks are one of the special products of metal craft that has great appeal among tourists. Because the people of this region are deeply religious, they were inspired to create innovative masks of the revered Devi and Lord Shiva, each with a distinct and appealing design.Masks are settled onto small chariots.
Local people place great value and faith in these masks. They keep it in temples and wear it too during festive occasions, fairs, and religious ceremonies. These masks are made up of brass, copper, or a combination of copper, iron, brass, gold, silver, zinc, tin, and mercury.
Manali Drift Wood Industry
Manali, the small hill town in Himachal Pradesh, is surrounded by Himalayan ranges and valleys full of pine and fir groves. The Himalayan rivers and streams cause the catastrophic flood in this region, which ultimately becomes responsible for the great destruction of trees. These create an opportunity for the wood industry.
Floodwater carries these wood pieces to the riverbanks. They are collected, cut, and chiselled in particular shapes. Later, they are polished to provide a proper shine. These wooden craft pieces create a great attraction among tourists. Though this flood has affected the lives of many people by creating great destruction, indirectly it has become a blessing for people here.
Market: The shops in Ramshilla and Babeli near the Kullu bus stand have a great collection of drift wood products. Pandit Durga Prasad Rao and Kuldeep Dhiman are well-known masters of this industry.
Manali Wood Crafts
Wood craft is one of the important and traditional handicraft practises done in Manali. You can explore the variety of wooden craft in revered shrines, cottages in bucolic hamlets, and sculptures of deities, which all consist of significant episodes from epics, legendary characters of ancient times, and animals.
Market: The Malana village is famous for its sculpture, which shows the art of passionate and intimate love. The following are some places to look for wooden crafts:
Tripura Sundri Temple, Naggar.
Prashar Rishi Temple, Kamand.
Hadimba Temple, Manali.
Adi Brahma Temple, Khokhan.
The walls of these temples portray various poses of Lord Vishnu, Shiva, Ganesha, and Narasingha. Even the houses of Manali are decorated with woodcraft.
Tibetan Craft
Apart from scenic beauty, Manali is famous for its handicraft. Among the various types of handicraft, the Tibetan craft of Manali is one of the most famous in this region.
Tibetans have learned the art of making carpets from their forefathers. Following the occurrence of major political turbulence in Tibet, a large number of Tibetans settled in various hilly regions of India.
Ancient Tibetans were followers of Buddha. As a result, their carpet designs are inspired by Buddhist philosophy, such as the dragon, lotus, snow lion, golden wheel, and so on.These symbols give the message of power, purity, prosperity, and happiness.
They also have a speciality in making the laughing Buddha, the lotus, the wheel motif, and other wall hangings, which are kept or given as memories of the place.
Cane Craft
The bamboo trees are commonly found in Himachal Pradesh. It has multi-purpose usage. The robust cane that these plants yield is used to make furniture and baskets in a huge variety of sizes and shapes.
The special type of local cane, also known as Nargal and only found in these regions, is widely used to make Patari and other handicraft items. These crafts are able to generate major earnings for villagers.
Baskets are used by locals, but tourists buy them as decorative items. The special type of canes are imported from the Andaman-Nicobar Islands, Assam, and other parts of India.
Pottery Craft
Manali residents are also accomplished potters. They create different designs of pottery pieces out of clay. The local artist who creates this art is called a potter or kumahar. These pieces are primarily used for domestic purposes such as utensils, pitchers, pots, and other earthenware.
So, in addition to being a tourist destination, Manali has explored a variety of interesting industries.
Fairs and Festivals
Manali people celebrate their lives beautifully with local fairs and festivals. It has great charm and impacts their lives. Some tourists visit Manali, a beautiful city in Himachal Pradesh, during specific times of fair and festival to celebrate the vibe here. The details of some important fairs and festivals are given here.
Winter Carnival

The winter carnival is held in the first week of January every year. Local artists as well as invited troupes from different parts of the state perform in front of a large number of Indian and foreign audiences. The major attractions of this carnival are a Winter Queen, a Beauty Peasant, a parade, solo and group dances, street plays, etc.
Dhungri Forest Festival
This festival is held in the month of May at Van Vihar National Park. It is completely organised and volunteered for by the local women of Manali. All the local females come together in their traditional attire to celebrate and pay their regards to the goddess Hidimba Devi. They all participate in various activities like singing, dancing, street plays, etc.
Hidimba Devi Fair
The people of Manali have great faith in the goddess Hidimba Devi. This fair is arranged in the spring season in the month of May at Hidimba Devi Temple, which is situated amidst tall cedar trees. The whole location is decorated with colourful flowers. It is eye- and mind-pleasing to see the cultural activities that happen here.
Losar Festival
Every year, Tibetans in Manali celebrate Losar, the Tibetan New Year, in the month of March every year.They reduplicate the look of the wedding day of the great lord Padamsambhava with local princesses. People who have participated in wedding rituals begin their preparations in earnest in February.This festival is a great platform to witness the core tradition and lively culture of the Tibetan community.
Dusshera
This festival is celebrated in the month of October. This festival is celebrated in honour of the victory of good over evil. One can see the flags all around the town and wear new clothes on the particular day to celebrate it. The procession of Lord Rama brought out the Shobha Yatra, which was attended by thousands of people.
Baisakhi
It is celebrated in the month of April as a farewell to the winter season. There are many fairs organised here during this festival. Locals enthusiastically participate in a variety of activities such as dancing, archery, wrestling, and so on at these fairs.
Music Festivals
Other than these festivals, various music festivals and carnivals are organised throughout the year. New Year's music festivals have great appeal among tourists. These music festivals are held in beautiful locations, and the atmosphere gives a heavenly feeling to the tourists.
The Manali people celebrate all the festivals grandly. It is a great opportunity to witness a celebration of a festival here. People also plan their journey to the place at a particular time to become a part of the special festival here.
Must Have Bike Ride
Before moving ahead, I would like to mention one facility that is easily accessible in Manali. One can easily rent a bike or scooter with economical charges from the local automobile shop. and visit the below places. It is also a different level of bike riding experience here.
The routes are flanked by a continuous stream on one side and tall standing mountains on the other.You can experience the weather as well as local life in this location all at once.
Tourist Places in and Near Manali
This small hill town has grown as a tourist attraction. It has a number of beautiful locations to explore and enjoy. Not only Indians, but foreign tourists also do not want to miss this place.
People visit this place to experience eternal peace and calmness. In Manali, there are many yoga and spiritual practises going on. People come here to find peace within themselves. They connect with their higher self.
Hidimba Temple
This temple is dedicated to Hidimba Devi, wife of Bheema, and was built in 1553 by Maharaja Bahadur Singh. It stands between dense and tall cedar forests. This temple is built around the cave of Hidimba Devi, where she used to perform meditation.
Tale of the Hidimbadevi Temple
The history of this forest is connected to the Mahabharata. Hidimba was living with his brother, Hidimb, the Kamyaka forest's monster king. After the attempt of killing by Duryodhan, pandavas escaped into Kamyaka forest. Hidimb ordered his sister Hidimba to kill the Pandavas after learning that they were hiding in the forest.
Hidimba converted herself into a beautiful woman to seduce five brothers. But she fell in love with Bheema at first sight, and instead of killing her brothers, she proposed marriage to Bheema for happiness. Hidimba revealed her real identity and helped her five brothers defeat Hidimb as well. With Kunti's permission, Bhima and Hidimba got married.
Bhima married Hidimba on the condition that after she gave birth to his child, Bhima would leave Hidimba forever, and she agreed to that. Within a year, the couple had a baby boy, and according to their condition, Pandavas had to leave the region.
Hidimba raised their child, Ghatotkacha, on his own. Later, the child became a strong warrior, just like his father, and gave his contribution to the Mahabharat. The Ghatotkacha Shrine is a short walk from the Hidimba Shrine, which is also a popular tourist destination.
Hidimba is said to have done rigorous tapasya later in life and transformed herself into a deva. She did good deeds for the local public, and they started worshipping her as a deity. The pagoda-style architecture of this ancient Hindu Hidimba Temple is unique and new.
Solang Valley
Solang Valley is in Burwa, a 14-kilometer drive from Manali. During snowfall, people enjoy adventures like skiing and snowmobiling. In summer, tourists can enjoy zorbing and paragliding. You can also have a mesmerising ride on a cable car and enjoy the view of the Himalayas.
Jogini Waterfalls
This location is situated in Vashisth village near Manali. The waterfall coming from the snow-capped Rohtang Pass gives a glimpse of the Beas River. This is also pligrim place for local people. It is recommended that one start the trek early in the morning so that one can have a full exploration of the place. There are old shrines at the bottom of the water fall to visit.
Manu Temple
The Manu Temple is dedicated to the sage after whom the town has been named. It is located in Old Manali. One can have to hike a little to reach the temple, but it's worth the spiritual experience at the summit. The temple is open to visitors from morning 5 to evening 6 every day.
The Manali Gompa
The Manali Gompa located on Old Manali Road was constructed by Tibetan refugees in the 1960s. The roof of this place is built in pagoda style, while the walls of this place tell us about the important events of Buddhism. The market near this place helps us to explore some Tibetan handicrafts and souvenirs.
Bhrigu Lake
This lake is situated 19 kilometres from the hill town. This is one of the best places for trekking near Manali, but you have to be well prepared for this trek as it is located more than 4000 metres above sea level. Visitors are drawn to the scenic view of the Pir Panjal Range.
Hampta Pass
The Hampta Pass Trek allows you to enjoy the views of Kullu and Lahual Valley. One can visit the Chandratala Lake en route to this trek. This place is located on the Pir Panjal Range, approximately 15 kilometres away from Manali. This trek is at a height of 4000 meters, and one has to cross a river on the route.
Nehru Kund
You can visit this place while travelling on the Manali-Rohtang Pass highway during the summer. The location is named after Jawaharlal Nehru, the first Prime Minister of India, because he used to visit this place and drink water from a natural spring.
Arjun Gufa
Arjun Gufa is located in Prini village, approximately 21 kilometres from Manali, near the gushing waters of the Beas River. This place is associated with the epic Mahabharat. Arjun, one of the Pandva brothers, used to meditate here, as the name suggests. You can also visit Kunt Bhayo and Kunti Mata Temples near the cave.
Van Vihar
This place is highly recommended to visit in Dhungri Village, Manali. Van Vihar is a public park with greenery and Deodar trees. One can enter the park for a fixed fee of 5 rupees. Per person.
You can also enjoy boat riding for 15 minutes in the man-made lake by paying charges of Rs. 30. Winters Place is open to the public from 8 a.m. to 5 p.m. During the summer, visiting hours range from 8 a.m. to 7 p.m.
Himalayan Nyingmapa Buddhist Temple
The location is near Manali Mall Road and provides an immense sense of calm. One must spin the prayer wheel. You will not resist your self from admiring the idol of Sakyamuni and wall paintings.
There are no entry charges, but one has to pay photography charges of Rs. 20 for clicking pictures. The visiting timing of this temple is morning 6 to evening 7 every day.
Vashista Hot Water Springs and Temple
Vashista village has a temple that has great interiors, antique figures, and paintings. This place has more than 4000 years of history. The unique attraction of this temple is its hot water spring, which contains healing properties.
This place is open from morning 7 to evening 9 daily. You can enjoy shopping for woollen clothes and other souvenirs in the market that is established outside the temple.
Museum of Himachal Culture and Folk Art
This place resides in the Utopia Complex on the road to Hidimba Temple in Manali. This place is highly recommended for visitors who are interested in the tradition, culture, and heritage of the region. Here one can explore the collection of masks used in festivals by dancers, traditional garments, musical instruments, models of ancient houses and temples, etc.
In the month of April to November, the visiting time is 9:00 a.m. to 7:00 p.m., whereas in the month of December to March, the visiting time is 10:00 a.m. to 6:00 p.m. The entry charge per person is Rs. 10.
Kothi
This location is 14 kilometres from Manali on the Spiti Highway at an elevation of 2500 meters. Kothi offers charming views of snow-capped peaks and glaciers. This place is at the foothills of Rohtang Pass, and the Beas River flows through this region.
Kothi is a perfect place for camping, especially when you are interested in exploring the foothills of Rohtang. The village acquired an attractive temple dedicated to the goddess named Shuwang Chandika.
Beas River
The Beas River is the natural landmark that surrounds most of Manali town. Vashistha Village is the best place to have an excellent view of the river valley. During your trip on the Kothi, you will come closer to the clear blue water of the river. In the river, one can enjoy river rafting and kayaking. Pridi Village has the most exciting rapids to experience.
Great Himalayan National Park
The Great Himalayan National Park, a UNESCO World Heritage Site, is 49 kilometres from Manali. The park is home to many rare species, such as more than 1000 plants, around 210 bird species, and 30 mammal species. You can watch the snow leopard, Himalayan tahr, and brown bears.
The park's authorities have designated some areas for activities such as hiking and camping. One needs to have permission in advance to visit the place. Indians have to pay Rs. 50, whereas foreigners have to pay Rs. 200 for entry. The visiting time of park is 10:00am to 5:30pm daily.
Gulaba 
Gulaba is a village 20 kilometres from Manali that is a great place to learn about the different cultures of the locals. For the winter traveler, this place is best for exploring snowy landscapes. This place has captivating trekking routes in Himachal Pradesh. The village is excellent for camping as well as stargazing due to its low light pollution and high altitude.
Old Manali
Old Manali is considered a primitive part of the town. In Old Manali, you can explore the history of how the town used to be in the "golden" old days. Manali and Old Manali are separated with the help of a bridge built on the high current of the Manaslu River. Here you can visit city-famous places like Cafe 1947, Born Free Cafe, Evergreen Cafe, and Sunshine Cafe. You can also enjoy shopping for dream catchers, boho-style clothing, shrugs, woolens, etc.
Rahala Falls
Rahala Falls is located between Leh and Manali, approximately 30 kilometres from the town. During the monsoon or post-monsoon season, this place has great views of cascading water onto the rocks. The spraying of cold mountain water on visitors gives a mesmerising experience.
Here, there are many picnic spots near the falls to enjoy with family and friends. It is an immensely beautiful experience in itself to hike through dense deodar forest and silver birch trees. The recommended visiting hours for this location are from morning 6 to evening 5.
Jagatsukh 
Jagatsukh is a major village in the Kullu region, about 12 kilometres from the town. The village is popular for its temples and vernacular architecture. You can use Jagatsukh as a base for the trek up Deo Tibba Mountain. The Sharbali Devi Temple is an attraction for the visitors here.
Naggar Castle
Naggar town is nearly 21 kilometres from Manali on the Beas Valley.It was built in the 15th century by the Emperor of Kullu, named Sidh Singh. Himachal Pradesh Tourism Development Corporation is now running this place by converting it into a hotel. You can visit the place by paying rs.15 charge for per person. The usual visiting time is 7:00 a.m. to 10:00 p.m., which may differ in the winter season. This place is utilised well shooting of many famous movies.
Rohtang Pass
Rohtang Pass is the route located on Pir Panjal Mountain, almost 4000 metres above sea level, between the Leh-Manali Highway and Manali, a beautiful city in Himachal Pradesh. This place is heaven for adventure lovers as you can enjoy motor biking, skiing, and many other sports. Many Bollywood movies have featured the beauty of this route.
During the winter season, visitors are prohibited from passing through this route because of heavy rainfall. You need to have advance permission to visit this place, and private vehicles as well as two-wheel vehicles are restricted.
Gauri Shankar Temple
The temple is famous for its Shikhara-style architecture and beautiful carvings on stone walls. It is believed that the temple was established in the 12th century and structured in the Gurjara-Pratihara tradition. The temple is dedicated to Lord Shiva and is located on Naggar Castle Road, 22 kilometres from Manali.
Manali Sanctuary
Manali Sanctuary is about 2 kilometres away from Manali, a beautiful city in Himachal Pradesh, and spread over 31.8 square kilometres. In the summer, you can observe ibex herds in this range. Maple, walnut, and deodar trees add beauty to this place. Tourists can enjoy trekking and camping here. In the autumn months, leaves create a tapestry of colors, which is also an attraction among people.
Chandrakhani Pass
This pass is 21 kilometres away from the town. While trekking through this pass, you can also visit a popular village named Malana. The village is famous for its distinctive community and cannabis crops. It is a favourite spot for photography lovers as it offers views of peaks such as Deo Tibba, the Parvati Range, and the Pir Panjal Range.
Other Cities To Include in The Himachal Pradesh Trip
Apart from these places, you can also explore other hill towns far from Manali, a beautiful city in Himachal Pradesh. The details of these locations are given below. Though these are long-distance places, some bike riders chose to have a bike ride. You can visit these places easily with a local taxi driver.
Shimla
The capital of Himachal Pradesh, which is also known as "Queen of Hill Stations," is 246.2 KM away from Manali. You can visit Mall Road, Jakhoo, and other places here. You must experience the journey of a toy train here.
Kufri
Kufri is 260 kilometres away from Manali. The best time to visit this place is from November to March. You can have the experience of horse riding, yak riding, or skiing here. You can visit Mahasu Peak or Kufri Fun World here.
Bir Billing
Bir Billing has the highest paragliding point in Asia. You can also experience camping, trekking, mountain biking, and angling. Other than adventures, you can visit a tea factory, Chokling Monastery, Deer Park Institute, and Tibetan Colony here. This place 156.9 KM distance from Manali.
Chail
Chail is popular as the world's highest cricket ground. Tourists also visit the Chail Palace, Kali Tibba Temple, and Sanctuary. This place is also famous for camping, trekking, rock climbing, and nature walks. This location is approximately 300 kilometres away.
Solan
Solan is 262.6 kilometres away from Manali. Solan is a mass producer of high quality mushrooms, so it is also known as the "Mushroom Capital of the Country." It is also known for its oldest breweries. Visitors also visit nearby Mohan Park, Schoolini, Jatoli Temple, etc. The best time to visit is from February to May and August to November.
Kullu 
Kullu is just 40 kilometres from Manali. People specially come to visit Raghunathji Temple and also try to witness the festival, which happens here in November and December. People also visit Bilji Mahadev and the Himalayan National Park. The best time to visit Kullu is March through June.
Kasauli 
Kasauli is 260 kilometres away from Manali. This place has become a favourite of newlywed couples. One can enjoy Mall Road, Gilbert Trail, Manki Points, etc. You can satisfy your shopping cravings on Mall Road here. The best time to visit is from April to June and September to November.
Manikaran 
Manikaran is almost 90 kilometres away. This place has a number of pilgrim centres for Sikhs and Hindus. The famous Gurudwara of Manikaran Sahib is situated here. People visit the holy hot spring of Manikaran and take a dip into it. People also visit Kulant Pith, Harinder Mountain, and Lord Ramachandra Temple. The best time to visit is April, May, and June.
Dalhousie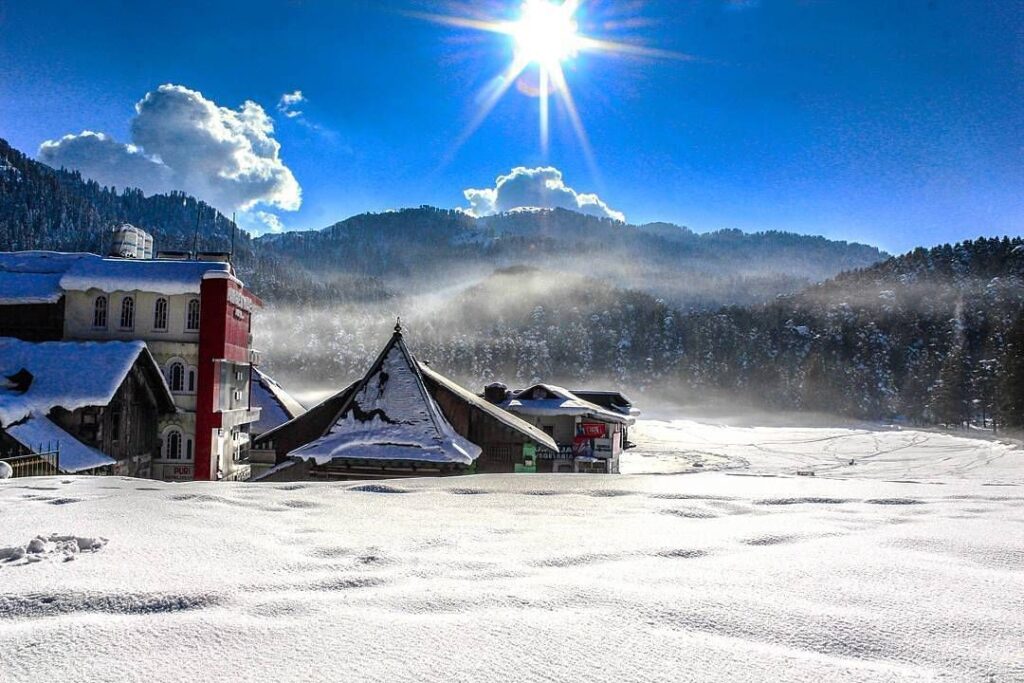 Dalhousie is 324.9KM distance from Manali. People visit Kalatop Khajjiar Sanctuary, St.Francis Church, St.John's Church here. The best time to visit is March through May. During winter Khajjiar converts into mini Switzerland.  
So you may get tired of exploring the places, but the list of places will not end soon. Keep your energy high and enjoy the ride in Himachal Pradesh.
Ending
If you are a mountain lover, you must explore Himachal Pradesh and especially Manali once in a lifetime. You should have more days of vacation for proper exploration of this place. One will never regret the decision to explore Manali, a beautiful city in Himachal Pradesh. This place will take you to the Paradise of Heaven.